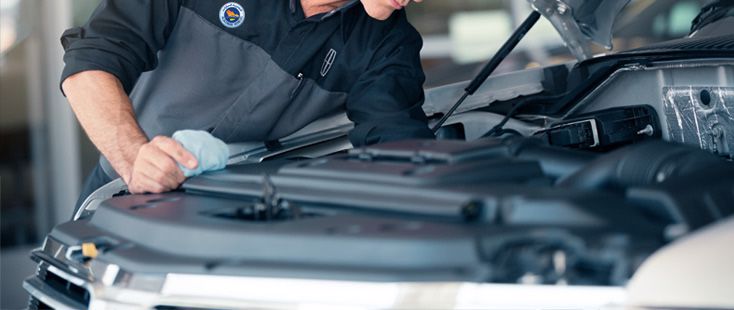 Al Jazirah Vehicles' Lincoln luxury vehicles aftersales policy
Thank you for choosing Al Jazirah Vehicles Agencies Co. We wish to welcome you to our family.
Our goal is to make you enjoy your current vehicle and ensure that you are satisfied with our services as we are committed and keen to keep you happily satisfied.
As our valued customer, we wish to introduce you to our service department as detailed below:
Vehicle Check in Process
When you take an appointment, we will dedicate a 15-minute session with our service advisor to ensure that you have enough time to explain the service that you are interested in and make any additional remarks if applicable.
Then your vehicle will be inspected by our service advisor in your presence to ensure that all the remarks / concerns have been captured and to approve any additional services / repairs if needed. The service advisor will also provide you with the necessary pre-cost pricing and agree on a time to have the vehicle ready for you to pick up.
When you book your appointment we can make arrangements for a taxi on your cost, if required, to ensure that you meet your obligations if needed, Or we would gladly welcome you to our lounge where you can wait for your vehicle (Quick Service) and have some refreshments and enjoy our free WiFi service.
If any additional faults are diagnosed, other than the repairs previously agreed on, you will be contacted to authorize these repairs in writing and ensure that there are no surprises at the end of the day.
Menu Price
Our prices have been set after extensive analysis of the market to ensure that we have come up with competitive prices to match your needs and ensure you the best value! You can get an idea of our prices by asking our service advisors or by checking our published price lists in the reception area.
Benefits of Periodic Maintenance
A well-maintained car is definitely safer and more reliable, and would increase the value of your vehicle significantly. Regular maintenance doesn't just mean changing the engine oil and filter.
If you have your car maintained at Al Jazirah Vehicles Agencies Co.:
As a Lincoln Certified dealer, we boast the best technicians that are trained and certified by Lincoln in the latest Service and repair techniques. Furthermore, we will keep and maintain records of your full service history for you to prove that you've had your scheduled maintenance on time to safeguard your warranty.
N.B. Services are due every 4 months or 8,000KM, whichever comes first. * Reference: Middle East Warranty & Service Guide.
Multi Point Inspection
We offer a visual inspection of your vehicle during every service visit to ensure your vehicle's health and safety.
Warranty Coverage up to*
Lincoln: Limited Warranty for 6 years or 110,000km from date of purchase, whichever comes first!
*Reference: Middle East Warranty & Service Guide
Al Jazirah Vehicles
Guarantees any parts replaced at Al Jazirah facilities for up to one Year or 20,000KM, whichever comes first, except maintenance items.
Terms & Conditions of the validity of the product's warranty
In order to ensure the validity of the product's warranty, the concern shall not arise from any misuse by the customer, nor from not following the operation instructions set forth by the manufacturer, negligence, accidents, damages, nor from not carrying out the maintenance as per the factory recommendation or negligence in maintenance, and this also applies to the product's warranty.
Regular maintenance doesn't just mean changing the engine oil and filter.
*Note: Please refer to your warranty manuals for more details.
Unified number: 920002999

Toll Free Number: 8007492222

WhatsApp: 9200 02999

Email: [email protected]
Why do you need to maintain and service your vehicle?
Carefully following the manufacturer's service and maintenance schedules helps safeguard you against major repair expenses resulting from neglect or inadequate maintenance and also increases the resale value of your car.
Regular service/maintenance intervals for your vehicle have been established based on rigorous testing by Lincoln Motor Co., and therefore it is important that you have your vehicle serviced at the proper time.
These intervals serve two purposes: to maintain the reliability of your vehicle and keep the cost of owning your vehicle down.
We at Al Jazirah Vehicles will share the responsibility to see that all scheduled maintenance is performed and that the material used meets the specifications identified in the Lincoln owner manual that is supplied with your vehicle at time of delivery.
We will keep a service history for your vehicle and it will be your responsibility to keep all receipts for completed maintenance with the vehicle. This is very important for you and your vehicle's history so that you can prove that the service provider has used genuine and correct parts and lubricants in your vehicle.
(Failure to perform scheduled maintenance voids warranty coverage on parts affected by lack of maintenance.)
Why maintain your vehicle at your Lincoln dealership?
We employ factory-trained service technicians who participate in extensive factory-sponsored and certified training to help them become experts on the operation of your vehicle. Your vehicle is very sophisticated and built with multiple complex performance systems. Every manufacturer develops these systems using different specifications and performance features, which is why it is important to rely upon your dealership to properly diagnose, maintain, and repair your vehicle.
Multi Point Inspection
We offer a visual inspection of your vehicle during every service visit to ensure your car's health and safety.
Protecting Your Investment
Maintenance is an investment that will pay off in the form of improved reliability, durability and resale value.
To maintain the proper performance of your vehicle and its emission control system, it is imperative that the scheduled maintenance is performed at the designated Intervals.
Al Jazirah Vehicles Agencies Co Ltd and Lincoln Motor Company strongly recommend the use of only genuine Lincoln or Motorcraft® parts because they are engineered for your vehicle.
Al Jazirah Vehicles Agencies Co Ltd recommends its valued partners to perform the scheduled maintenance of their vehicles at Al Jazirah Vehicles service centers throughout the Kingdom of Saudi Arabia.
But, the owners are not under any obligation to do so, and the vehicle's warranty will be upheld provided that the correct parts and lubricants are used and a fully written or computerized documentation is provided showing the owner/vehicle details, the correct parts and lubricants used in the correct quantities in accordance to the technical specification in the owner's manual. This is needed in order to check and ensure the validity of the manufacturer's warranty.
Al Jazirah Vehicles Agencies Co Ltd. and Lincoln Motor Company both recommend and suggest that you have your vehicle serviced and maintained to ensure that your vehicle is reliable and safe for you and your family.
The New Vehicle Limited Warranty for Lincoln Vehicles
LIMITATIONS AND DISCLAIMERS
All of the warranties in the Warranty & Service Guide in the Middle East are subject to the following Limitations and Disclaimers:
The warranties in the Warranty Guide are the only express warranties applicable to your vehicle.
Lincoln does not authorize anyone to assume for it any other obligation or liability in connection to your vehicle or these warranties. No person, including Lincoln employees or Dealers may modify or waive any part of these warranties.
Lincoln and its dealers reserve the right to make changes in or additions to vehicles built or sold by them at any time without incurring any obligation to make the same or similar changes or additions to vehicles previously built or sold.
Lincoln and its dealers also reserve the right to provide post-Warranty repairs, conduct recalls, or extend the warranty coverage period for certain vehicles or vehicle populations, at the sole discretion of Lincoln.
The fact that Lincoln has provided such measures to a particular vehicle or vehicle population in no way obligates Lincoln to provide similar accommodations to other owners of similar vehicles.
As a condition of these warranties, you are responsible for properly using, maintaining, and caring for your vehicle as outlined in your Owner Guide and Scheduled Maintenance Guide (vehicles produced Outside North America). Lincoln recommends that you maintain copies of all maintenance records and receipts for review by Lincoln.
Lincoln and your dealer are not responsible for any time or income that you lose, any inconvenience you might be caused, the loss of your transportation or use of your vehicle, the cost of rental vehicles, fuel, telephone, travel, meals, or lodging, the loss of personal or commercial property, the loss of revenue, or for any other incidental or consequential damages you may face.
The New Vehicle Limited Warranty for Lincoln Vehicles LIMITATIONS AND DISCLAIMERS (continued) Punitive, exemplary, or multiple damages may not be recovered unless applicable law prohibits their disclaimer.
You may not bring any warranty-related claim as a class representative, a private attorney general, a member of a class of claimants or in any other representative capacity.
Lincoln shall not be liable for any damages caused by delay in delivery or furnishing of any products and/or services.
The New Vehicle Limited Warranty may have some implied warranties. For example, you may have an Implied warranty of merchantability (that the car or light truck is reasonably fit for the general purpose for which it was sold) or an Implied warranty of fitness for a particular purpose (that the car or Light truck is suitable for your special purposes), if a special purpose was specifically disclosed to Lincoln it not merely to the dealer before Your purchase, and Lincoln itself not just the dealer told you the vehicle would be suitable for that purpose. These implied warranties are limited, to the extent allowed by law, to the time period covered by the written warranties, or to the applicable time period provided by local law, whichever period is shorter.
These implied warranties do not apply at all if you use your vehicle for business or commercial purposes. In addition, the implied Warranty of Fitness for a particular purpose does not apply if your vehicle is used for racing, even if the vehicle is equipped for racing.
The warranties contained in this booklet and all questions regarding their enforceability and interpretation are governed by the law of the country in which you purchased your Lincoln vehicle. Some countries do not allow Lincoln to limit how long an implied warranty lasts or to exclude or limit incidental or consequential damages, so the limitation and exclusions described above may not apply to you.
NOTE: If you are an eligible U.S. owner, this information about the limitation of implied warranties and the exclusion of incidental and consequential damages under the NEW VEHICLE LIMITED WARRANTY also apply to the EMISSIONS WARRANTIES described in the United States Warranty guides
* Reference: Middle East Warranty & Service Guide
Warranty of the product quality
Terms & conditions relating to the validity of the product's warranty In order for the product's warranty to be valid, the concern shall not arise of misuse by the customer, or for not following the operation instructions by Manufacturer, negligence, accidents, damages, failure to carry out the maintenance as the factory's recommendation, or negligence in maintenance, and this applies to product's warranty.
Reference: (Ministry of Commerce - Terms of Provision of Maintenance, Spare Parts & Quality Warranty article # 15)
Contact Us
Dear Valued Customer,
For any suggestions, comments or complaints kindly reach out to us on:
Attention: Customer Care Center